Purging vs. Breakout: Is Your New Skincare Product Working, or Is It Making Your Acne Worse?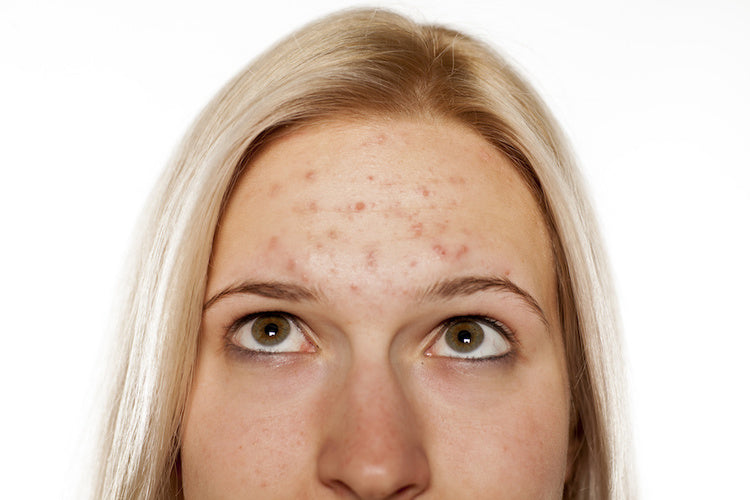 When trying out a new skincare product, especially one that's been touted to give you a clear complexion or give you that youthful look, you get excited. You can't wait to reap its benefits. A day or two later, you're surprised to find yourself having a breakout, and your skin still looks the same, perhaps even worse. What went wrong? Is this because of the new product? 
Breakouts are caused by various factors like bacteria and clogged pores, but these can also be caused by the introduction of a new product. This type of breakout is known as skin purging. But what is it and how is it different from your usual breakouts? Let's find out.
Purging vs. Breakout: What's the Difference?
While purging and breakouts might seem similar in that they cause acne or flare-ups, they are two different things. 
Skin purging occurs when you introduce a new skincare product to your regimen, especially if it's a product that is very different from the one you were using before.
When this product contains active ingredients—like retinoids or hydroxy acids, which prompt a reaction in your skin—this can lead to an increase in your skin cell turnover rate. A new product could also have ingredients that may affect or rebalance your skin's pH levels. Your skin will be shedding dead skin cells faster to make way for better-looking skin. 
But things aren't that simple. This is where the term "purging" starts to make sense. Before you can get better, younger-looking skin, your system needs to eliminate excess oil and buildup. All of the bad stuff gets pushed to the surface so that you can start having better skin. 
Think of it as a detox, but for your skin.
Acne is a common skin disorder that affects around 50 million individuals in the US alone. While the terms "acne," "breakouts," and "pimples" are often used interchangeably, "acne" actually refers to the disease itself, while "breakouts" or "pimples" are the manifestations of acne.
Acne occurs when your pores get clogged with excess oil or dead skin cells. These clogged pores, often turning into blackheads or whiteheads, can become inflamed, turning them into pimples or nodules. Acne is caused by a number of factors, like changes in your hormone production and bacteria growth on your skin.
Signs to Watch Out For
What do you need to look out for to determine whether you're experiencing skin purging or breakouts?
Purging is your skin adjusting to the new product. The skin's natural cycle is 28 days. When that process accelerates, you will experience symptoms like the appearance of more pronounced blemishes.
It is an indication that the product works and can be beneficial for your skin in the long run. The reaction may look like your typical breakout, with the appearance of flesh-colored or inflamed bumps and blackheads. Purging also usually occurs in areas where you tend to have breakouts. If you're having breakouts in new areas on your face, then the product may not be suited to your needs.
Using the product continuously will promote a faster, more frequent skin cell turnover cycle, thus paving the way for better skin. Symptoms of purging usually go away after a few weeks of continuously using the new skincare product. 
However, if the purge lasts longer than six to eight weeks, this might then be a breakout and you need to stop using the product. If these symptoms persist, it's best to consult with your dermatologist. 
While not all skincare products, like moisturizers and cleansers, can cause skin purging, some that contain active ingredients like benzoyl peroxide and exfoliants can significantly speed up your skin cell turnover cycle. Other active ingredients include:
Hydroxy acids, including fruit acids, glycolic, lactic, and mandelic acid
Retinoids, including retinol, tretinoin, and retinyl palmitate 
Chemical peels like scrubs and enzyme exfoliants
Other procedures like laser and microdermabrasion 
Your skin condition will improve after a purge. Breakouts due to purging are common and normal, and they usually go away on their own once your skin has adjusted to the product after continuous use. The key is to be patient and wait for six to eight weeks or one skin cycle.
Treatment and Care to Reduce the Severity of Purging Symptoms
While purging may be a frustrating part of your new skincare routine, it usually disappears faster than a normal pimple. Here are some steps you can follow to reduce the severity of purging symptoms:
Ease into the new products
Slowly introduce a new product to reduce the severity of a purge. Start by using a product with a lower concentration of active ingredients on a small patch of skin, and use it less frequently than you normally would (once or twice a week). From there, you can gradually increase the frequency or the concentration.
It's also not recommended to use more than one new skincare product at a time during the skin purging. 
Don't pick your acne
It may be tempting to pick on your acne or touch your face during this period, but doing that would worsen your acne and even prolong the purging period. 
Avoid using products that can dry your skin
Dry, peeling skin is also a symptom of skin purging. Avoid using products that can dry your skin, like harsh scrubs or soaps. To avoid exacerbating dryness, which can lead to irritation, use humectant moisturizers to keep your skin hydrated. This type of moisturizer increases moisture on a cellular level and promotes the shedding of dead skin cells.
Keep a gentle cleansing routine
Your skin becomes more sensitive during the skin purging period. Using products with harsh chemicals can further irritate your skin. Stick to a gentle cleansing routine instead. 
Also, don't forget to use sunscreen when you go outdoors to protect your skin from harmful UV rays.
Practice having a healthier diet and lifestyle
To complement your skin detox, you can start adopting a healthier diet and lifestyle. Eating foods rich in complex carbohydrates, vitamins A and E, and antioxidants, like legumes and green, leafy vegetables, can help prevent and treat acne. These nutrient-rich foods can also help your body detoxify better, thus amplifying the effects of the skin purge. 
A healthy lifestyle is also key to making the purge more effective. Try to manage your stress levels and get better quality sleep.
Your Journey to Better Skin
Purging can be an agonizing endeavor while you're waiting for your skin to adjust to the new product you're using, but it's not something that you should worry about. It's a common occurrence and it will go away on its own after a few weeks. Taking proactive steps to protect and help your skin recover quickly during this period also helps.
Having a clear understanding of what purging is and how it differs from breakouts will help you find the appropriate solution and steps to follow so that you can effectively deal with this situation. 
Like all good things, having better skin takes some time and a lot of effort on your part. But all that waiting and agonizing will be worth it once your skin starts to clear up and you begin to see how your skin looks clearer and brighter.