Parabens, Sulfates, and Other Skincare Ingredients You Should Avoid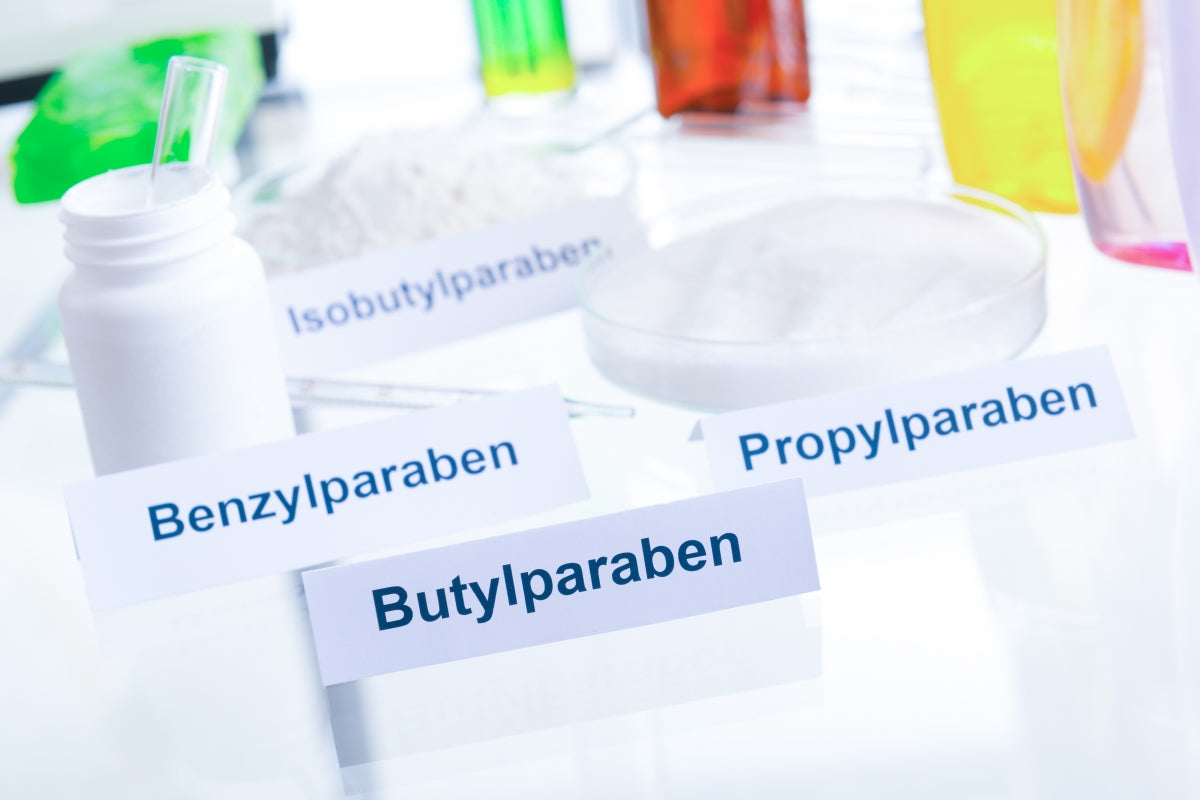 In buying skin care products, it is always important to read the labels and go over the list of ingredients to know what you're applying on your skin. While the FDA has regulations that prohibit the use of harmful ingredients, there are chemicals that are deemed safe for use but may still have ill effects and potential health risks. These are the ingredients we need to watch out for in choosing the products we buy.
Here are some skin care ingredients to avoid: 
Parabens
For decades now, parabens have been used in various products as a preservative. These are synthetic chemicals that are formed from naturally produced para-hydroxybenzoic acid (PHBA). PHBA is found in many vegetables and fruits including cherries, blueberries, carrots, cucumbers, and onions. It's also produced in the human body by the breakdown of some amino acids. Parabens that are used in food and personal care products are identical to these naturally occurring PHBAs.
In food, parabens are widely used to preserve dried meats, confectioneries, and cereal-based snacks. They act as anti-microbial agents that prevent the growth of molds and other harmful bacteria to lengthen the shelf life of consumables.
Parabens are also used in skin care products such as moisturizers, lotions, and creams. Similar to what they do in food, they also act as preservatives and anti-microbial agents in cosmetics. Often, different types of parabens are used together to protect against a wider range of microorganisms.
Paraben Dangers
Although parabens were widely used in food and cosmetics for decades, both manufacturers and consumers are shying away from them. Some studies have suggested that parabens act as endocrine-disrupting chemicals. In extremely high amounts, parabens function like the female sex hormone estrogen and are believed to cause breast cancer. While there has been no conclusive evidence so far on the link between parabens and cancer, it is best to err on the side of caution and try to avoid or limit exposure to them.
List of Parabens in Skincare Products
Among the many types of parabens, these are the most widely used in cosmetic products:
Butylparaben
Ethylparaben
Isobutylparaben
Isopropylparaben
Methylparaben
Propylparaben
Sulfates
Sulfates are surfactants commonly found in household cleaning products such as laundry detergents and dishwashing liquids. They are also widely used in shampoos, face cleansers, body wash, and toothpaste. If your cleanser creates a lot of foam, it most likely has sulfates in it.
Like parabens, sulfates have been used in skin care products for decades now. They have properties that enable lather and help cleanse the skin. They act as degreasers, removing sebum, dirt, and other residues on the surface of the skin. Sulfates are the usual ingredients that give you that bubbly lather and squeaky-clean feeling after cleansing.
Why You Should Avoid Sulfates
Aside from dirt and residue, sulfates also pull out natural oils from the skin. This causes the skin to dry out and causes irritation. Some types of sulfates, such as sodium lauryl sulfate, can even exacerbate acne. The longer the product stays on your skin, the worse the irritation becomes. So if you're using products with sulfates, it's always best to rinse them off immediately and thoroughly.
If you have sensitive skin, always use sulfate-free skin care products. They may not be as foamy, but that doesn't mean they are less effective.
List of Sulfates in Skincare Products
There are over 100 different varieties of sulfates. Some are obtained from natural sources while others are synthetic. Among the sulfates that are commonly used in skincare products are:
Sodium laureth sulfate
Sodium lauryl ether sulfate
Sodium lauryl sulfate
Phthalates
Phthalates are a group of chemicals used in almost everything from plastics to cosmetics. They make plastic materials more flexible and difficult to break. They are also used as solvents or dissolving agents in some compounds.
At home, your vinyl flooring and wallpaper most likely contain phthalates. These chemicals can also be found in food packaging and detergents. In cosmetics, phthalates are used as solvents or softeners in soaps, shampoos, and lotions.
Potential Dangers of Phthalates
Some studies suggest that phthalates are hormone disrupters that can cause damage to the reproductive system. One study claims that women who had high levels of phthalates had sons who showed signs of impaired testosterone production. Aside from this, phthalates are also believed to cause damage to the liver, kidneys, and lungs.
Although these risks are negligible in most cases due to minimal exposure to phthalates, there is still the possibility of health risks. To avoid purchasing products with phthalates, do not buy cosmetics or skin care products that list fragrance, DEP, DBP, or DMP in their ingredients.
Common Phthalates in Skin Care
Dibutylphthalate (DBP)
Diethylphthalate (DEP)
Dimethylphthalate (DMP)
Ethanolamines
DEA, TEA, and MEA are among the letters you should watch out for in skin care ingredients. These are types of ethanolamines made up of amino acids and alcohols. They are commonly found in a wide range of cosmetic and personal care products such as foundations, sunscreens, eye shadows, soaps, lotions, shampoos, hair conditioners, and shaving creams.
Diethanolamine (DEA) acts as an emulsifier in cleansers and shampoos. Aside from being an emulsifier, Triethanolamine (TEA) is also used to adjust pH and as a fragrance. Monoethanolamine (MEA) acts as a cleansing ingredient or surfactant.
Ill Effects of Ethanolamines
Ethanolamines are known to break down into nitrogen, forming nitrosamines, which are known carcinogens. They have been linked to the development of bacterial superbugs and liver fibrosis. They are also believed to disrupt hormone secretions and cause certain types of cancer. 
These compounds have been traced in human urine samples, indicating their absorption into the body. Moreover, certain ethanolamines including DEAs can accumulate in the kidney and liver. In high concentrations, they can cause organ toxicity and have neurotoxic effects.
Ethanolamines to Avoid
Diethanolamine DEA
Triethanolamine TEA
Cocamide MEA
Cocamide DEA
DEA-cetyl phosphate
DEA oleth-3 phosphate
Linoleamide MEA
Lauramide DEA
Oleamide DEA
Myristamide DEA
TEA-lauryl sulfate
Stearamide MEA
Other Harmful Ingredients
Mineral Oils
Mineral oils are moisturizing agents that are derived from petroleum. When used in cosmetics, they are absorbed into the body and can accumulate in fat tissues over time. Untreated mineral oils are known carcinogens. While cosmetic-grade ones are not as harmful, it's still best to avoid them. Opt instead for soothing pure oils such as argan, grapeseed, or chamomile.
Talc
Talc is a naturally occurring mineral powder formed by magnesium, silicon, hydrogen, and oxygen. It's a popular ingredient in face powders and eye shadows as it prevents caking and absorbs moisture. It also gives cosmetics a silky texture. But fears of asbestos contamination have made it less popular in the past years. Moreover, there are studies being conducted to verify the probable link between routine talc exposure and several types of cancer.
Formaldehyde
Another skin care product that lost its popularity over the years is formaldehyde. It used to be the primary preservative in cosmetics and personal care products. However, it has been classified as a carcinogen, and regulations have been set to limit its use. You may still find it in some products, but it will be in exceedingly small concentrations.
Synthetic Fragrances
Most fragrances used in skin care products are synthetic. They are usually derived from petroleum, coal tar, and other synthetic compounds. They contain volatile organic compounds that can cause allergic reactions and central nervous system disorders when inhaled through the nasal passages.
Skincare Ingredients to Avoid Acne
While the list above consists of ingredients that pose health risks, there are some ingredients that may not necessarily be harmful but should still be avoided if you are prone to acne. Coconut oil and lanolin oil both have emollient properties that help hydrate and moisturize skin. However, they are also highly comedogenic. They tend to clog pores and cause flare-ups. The same goes for most other mineral oils, so avoid them to keep acne at bay.
Isopropyl myristate is another emollient that works well on dry skin but tends to make acne worse. It has incredible moisturizing properties that help reduce moisture but also makes formulations thicker and denser. For acne-prone skin, this ingredient makes products comedogenic.
Silicones are generally good for the skin. They provide a luxuriously soft texture to skin care products and create a protective film on the skin's surface to retain moisture. While they are non-irritating, non-allergenic, and non-comedogenic, they can still possibly cause pores to clog over time and cause flare-ups.
Safe Alternatives for Better Skincare
In choosing skin care products, most consumers rely on labels. They look for organic or natural ones. Hypoallergenic products that are formulated for sensitive skin. Dermatologically tested, fragrance-free, non-comedogenic, the list goes on. However, these labels are often just unsubstantiated claims.
Also, being organic or natural doesn't necessarily mean that a product is safer. Plants, even those grown organically, can contain toxic substances. Some can be allergenic and won't always be the best choice for certain people.
To find out which products are safe to use, it's always best to read the list of ingredients. Check for potentially harmful compounds such as those that we've listed above. Check also for ingredients that you may be allergic to. Always choose those that have non-toxic and generally safe components. 
Here are some ingredients you should look for. These have all the good benefits and none of the bad effects:
Ceramides
Hyaluronic acid
Chamomile
Green tea
Willow Herb
Seaweed
Grapes
Oats
Soy
Safflower oil
Olive oil
Shea butter
Honey
Sunflower Oil
Argan oil
Carnauba wax
Rice Bran oil
Turmeric
Glycerin
Lecithin
Aloe vera
Jojoba oil
Algae extracts
Cocoa butter
Acai oil
Vitamin E
Vitamin B3
Goji Berry
Coffeeberry extract
Evening Primrose oil
Aside from ensuring that the ingredients are safe, check also if the product is backed by scientific research or clinical trials. This ensures that the product has been tested effective. For dealing with moderate to severe acne, you might want to consider Neutralyze's line of skin care products which are certified to be sulfate-free, fragrance-free, paraben-free, cruelty-free, and non-comedogenic. Their main active ingredients are salicylic acid, mandelic acid, and nitric oxide, which effectively fight, control, and prevent acne.
Choose Well. Keep Your Skin Safe.
Keeping your skin safe entails taking the time and effort to check the ingredients in the skin care products you use. Avoid those that contain parabens, mineral oils, artificial preservatives, and synthetic fragrances. There are plenty of products that can give you smooth, clear skin without using toxic ingredients or questionable components. Rely only on tried-and-tested products from trusted brands. Choose well to keep your skin safe from harm.