How to Age Gracefully with Renewal Complex Anti-Wrinkle Cream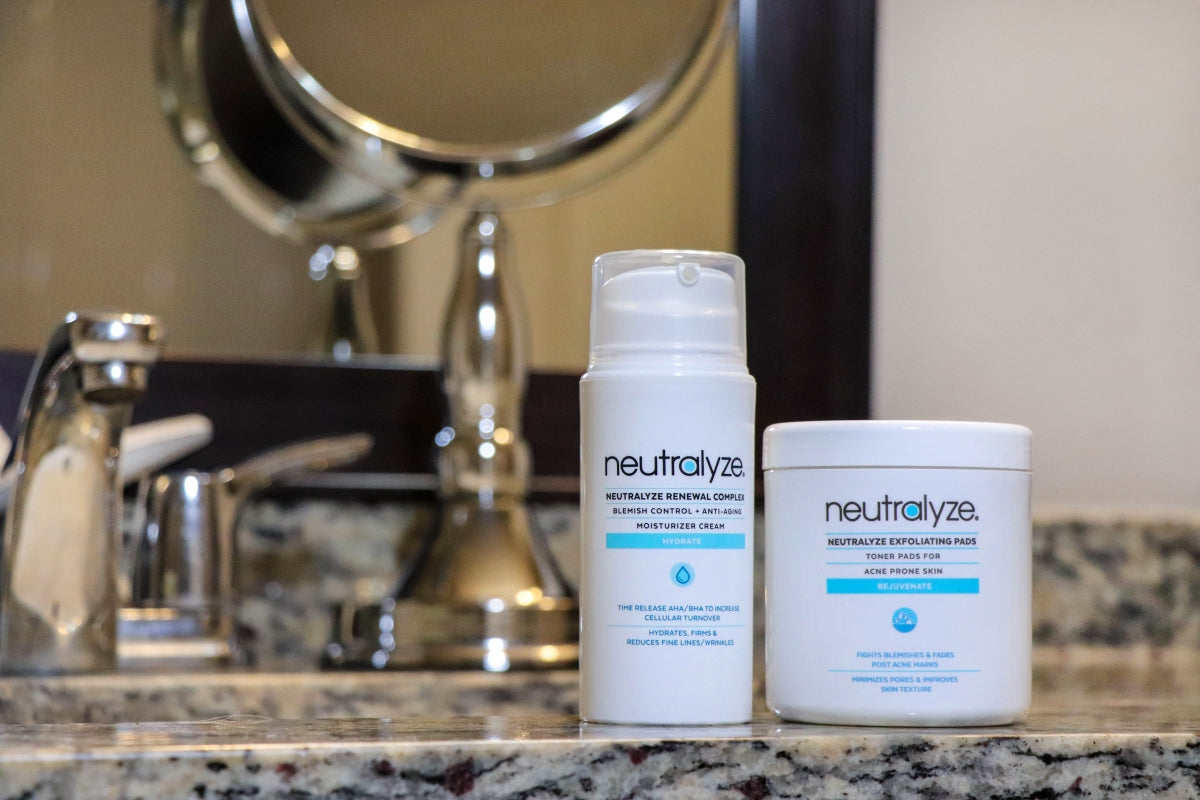 Skin aging is a reality that all of us have to face. You're exposed to the elements every day, and this can contribute to skin aging. Factors like sun exposure, daily habits, and your lifestyle can add up and take a heavy toll on your skin. 
The skin is the largest organ in the body, which means it can easily become exposed to free radicals. This can lead to cell damage, which in turn can cause a range of diseases and signs of aging, like premature wrinkles. 
Sun exposure is the number one culprit in skin aging. Exposure to ultraviolet rays can damage skin fibers like elastin. Excessive elastin damage can lead to sagging or less supple skin. 
No one can stop aging, but you can take proactive steps to delay or combat the signs of skin aging and have that youthful look for longer. Keeping your skin looking younger and healthier doesn't have to be that complicated, too. It's a matter of maintaining a healthy lifestyle and having good skincare habits.
What Is Renewal Complex?
You may have heard about using renewal complex to rejuvenate the skin. But what is it and what can it do for the skin? How does it differ from a wrinkle cream, a face moisturizer, and a facial cream? 
A renewal complex keeps skin moisturized and helps reduce the appearance of fine lines and wrinkles. These solutions work by helping your skin cells increase healthy cell turnover, leading to healthier-looking skin.
Some formulations of the renewal complex contain ingredients that can improve your skin's natural barrier while keeping your skin tone even. Other formulations can work well even on acne-prone skin. They can also be used for spot treatment to specifically target problem areas. 
When opting to improve your skincare routine, you'll come across several products that tout similar benefits but actually have different uses and effects.
Wrinkle Cream
Your skin's needs vary as you age. What you need in your 20s may differ slightly when you get to your 30s. One thing's certain, though—a wrinkle cream is a must-have. As its name suggests, this type of cream specifically targets wrinkles.
The skin needs collagen in order for it to stay smooth and supple. However, aging and sun damage affect your skin's ability to produce collagen, and without enough collagen, your skin can develop wrinkles or sag. 
A wrinkle cream can delay the onset of fine lines and even reduce the appearance of existing wrinkles. It contains common ingredients like retinoids, vitamin C, and hydroxy acids that help repair sun damage, protect your skin from free radicals, and remove dead skin cells for a smoother, healthier-looking complexion. 
Meanwhile, other ingredients like Coenzyme Q10 can help reduce the appearance of lines around the eyes. Creams that contain peptides can also help stimulate collagen production in your skin.
Ideally, a wrinkle cream should be applied twice a day, once in the morning and once in the evening. It should also be used in conjunction with other skincare products to maximize its effects. To reap the full benefits of your wrinkle cream, give your skin enough time to absorb it before applying other skincare products.
Face Moisturizer
Having a good moisturizer can help keep your skin looking youthful. Moisture can help your skin heal itself and combat the signs of skin aging. Moisturizing daily can also prevent or reduce the development of skin problems like excessive dryness or oiliness that can lead to acne. 
Not all face moisturizers are made the same, and your needs will also greatly depend on your skin type. If you have acne-prone skin, you might want to consider moisturizers that contain alpha-hydroxy acids. Those with dry skin will do well to go with moisturizers that contain hyaluronic acid and dimethicone for hydration. Face moisturizers for those with sensitive skin are usually hypoallergenic and fragrance-free.
A face moisturizer can also have ingredients for sun protection and contain antioxidants to combat free radicals. Ideally, it should be used after every bath when your skin is still damp, especially if you're using hot water. 
When choosing a moisturizer, it's always best to check the label. Check for potentially harmful ingredients like colors and perfumes. Be cautious about using products that contain too many acids as well. You would also benefit from choosing a moisturizer that offers sun protection. 
Facial Cream
A facial cream is another type of moisturizer, but it is "heavier" with a greasier feel and a thicker consistency. Facial creams greatly benefit individuals who have excessively dry skin as they create a barrier that locks in moisture, keeping your skin looking and feeling young. 
Creams usually come in two variants: one for daytime and one for nighttime use. Day creams have ingredients like sunscreen and vitamin C, and they are designed to protect your skin from exposure to potentially harmful elements. They also have a lighter consistency and feel.
Meanwhile, night creams have ingredients like retinols and hydroxy acids that work while you sleep. These ingredients can give you better complexion, exfoliate your skin, and reduce the appearance of fine lines and wrinkles. 
Primarily designed to keep skin moisturized and elastic, facial cream also has several other benefits such as reducing the appearance of dark spots, boosting collagen production, and even preventing breakouts. 
Acne Cream
Acne isn't something that only teenagers deal with. It affects many individuals regardless of their age. 
It's not uncommon to have aging skin and have acne at the same time. The good news is that there are a number of anti-aging products that also have acne-combatting effects. 
A good acne cream can effectively fight acne while keeping your skin moisturized. Make sure to check out products that contain salicylic acid and mandelic acid as these ingredients are known to have both anti-acne and anti-aging effects.
How Does Renewal Complex Minimize Signs of Aging?
We all have to go through aging, and the signs of advancing age can be seen on your skin. Some common signs of skin aging include:
Rougher skin texture
Appearance of skin tags and warts
Sagging 
Thinner, less plump appearance
Additionally, older skin can also be at an increased risk for injury. Given that the skin becomes more fragile as you age, it becomes thinner and is more prone to bruising or skin tears. It is also less likely to be as sensitive to touch and pressure as younger skin is. 
A renewal complex minimizes the signs of skin aging as it replenishes your skin's moisture, evens out your skin tone, and reduces the appearance of lines, wrinkles, and dark spots. Other formulations contain ingredients that can exfoliate your skin, making it look more youthful. Some formulations also have ingredients that can improve your skin's texture, helping retain its firmness and elasticity.
A renewal complex is a great complement to your existing beauty routine. It helps combat the effects of skin aging, giving you smoother and more radiant skin. Continuous use can lead to longer-lasting effects. However, once your skin gets used to a certain product, it may be difficult to remove it from your routine as your skin can return to its original condition. 
Incorporating Renewal Complex into Your Skin Regimen
A good anti-aging skincare regimen entails a balance between your lifestyle and skincare habits. The best recourse to fight skin aging is to prevent or reduce it. Here are some simple steps you can follow:
Maintain a healthy diet and reduce your consumption of sugar and refined carbohydrates.
Exercise regularly.
Protect your skin from sun exposure by using protective clothing and a broad-spectrum sunscreen.
Avoid or stop smoking as it can speed up your skin's aging process. Refraining or lessening your alcohol consumption helps, too.
Have a

 

skincare routine

 

and stick to it.
Building a Skincare Routine
Skincare can often leave most of us confused. Which products should you use, and in what order? A good regimen entails cleansing, toning, and moisturizing. Doing treatment in between these steps can also do wonders for your skin. Keep in mind that your skin's needs change as you age. 
A typical daytime skincare routine follows this order:
Cleanser
Toner 
Serums 
Eye cream
Moisturizer
Sunscreen
Your nighttime skincare routine can look like this:
Cleanser
Toner
Serums or treatments (This is where you can insert a

 

renewal complex

 

into your routine.)
Eye cream
Spot treatment
Moisturizer 
Face oil 
When Should You Use Anti-Aging Products? 
You may be wondering when you should start incorporating anti-aging products into your skincare routine. There's no set age or limit to when you can do this. You can start as early as your 20s. The most important thing to be mindful of is your skin type, as different skin types have differing needs.
Factors to Consider in Choosing the Best Wrinkle Cream
Choosing the best wrinkle cream for your skin can be like trying to find your way through a labyrinth. There are shelves upon shelves of similar products that claim to deliver the same benefits. So, how do you choose the best wrinkle cream for your needs?
Always check the label for the ingredients. Try to avoid products that contain artificial ingredients like dyes, colors, and parabens. Instead, look for ingredients like retinoids, hydroxy acids, vitamin C, peptides, and niacinamide. Products that also contain extracts like tea or grape seed can have antioxidant and cell rejuvenating properties.
Consider the costs. Some over-the-counter

 

wrinkle creams

 

can be just as effective as their more expensive name-brand counterparts.
Try to go for a multi-purpose wrinkle cream. Look for creams that also offer sun protection. Keep in mind that sun exposure is the number one cause of premature skin aging. 
Know your skin type. Not all creams are the same. Putting on a cream that's incompatible with your skin type may lead to irritation or even acne. If you happen to have oily skin, check the label to see if it's formulated for or compatible with oily skin and if it contains ingredients like salicylic acid or green tea extract. If you have dry skin, try to go for oil-based creams.
Choose products that are hypoallergenic and non-comedogenic. 
Do a patch test before actually using a product. 
Do consider product reviews, but keep in mind that what works for others may not necessarily work for you. 
Anti-aging steps don't have to be complicated. While we have not yet found the fountain of youth, having good skincare habits can help you get that youthful look even as you age. Plus, your makeup will look better if you have moisturized skin. 
With renewal complex wrinkle cream, you can have the freedom to feel beautiful at any age without having to worry about wrinkles and other signs of skin aging. Now that's how you age gracefully!